The snack world of cycling 
You're stopped at a gas station, 50 km away from the end of your ride, your stomach is churning, your legs are heavy; you're bonking. You need something, NOW! The more you aimlessly walk up and down the aisles of the gas station, the more indecisive you get on your snack of choice. "What's gonna save my ride?" you think to yourself. What is it that gives us energy and causes the untimely "bonk" of cycling? The answer is carbohydrates. 
What are Carbohydrates?
Carbohydrates are one of the three main macronutrients of the body, along with fat and proteins (check out Alister Gardner's article on What Protein Does on our blog).
These macronutrients are the way the body obtains calories or energy, with carbohydrates being the predominant macronutrient the body uses for this. It's important to note that the body cannot synthesize its own macronutrients and such, all macronutrients must be obtained from the diet. As the name suggests, at the molecular level, carbohydrates are molecules that contain covalently bound carbon, oxygen and hydrogen. 
Carbohydrates are found in a wide variety of foods and forms. The three most common types of carbohydrates are sugars, fibers and starches, with sugars generally being considered "simple" carbohydrates and fibers and starches being considered "complex". (see below). Once ingested into the body, carbohydrates are broken down into smaller sugars that can be absorbed at the level of the small intestine and subsequently taken to the liver, where they can enter the bloodstream as the simple sugar, glucose (accompanied by the hormone insulin) and converted into energy by your body's cells through glycolysis (the breakdown of glucose) followed by oxidative phosphorylation in your cell's mitochondria for basic body functioning and physical activity. If glucose is not immediately needed, the body can store up to 2000 calories of it in its complex, branched form of glycogen in the liver and skeletal muscles for later use. This is what is known as 'carb loading'.
Before we go any further, it is worth noting that there are many trends and diets when it comes to carbohydrates. "Low carb" diets have been around for quite some time with the premise that "bad carbs" should be completely omitted from the diet and the "good carbs" should be kept to a minimum to (in theory) lose weight. More recently, offshoots of this diet plan, such as the now popular "gluten-free diet" and ''ketogenic diet'' have emerged. There's still a lot of ambiguity as to the science behind these diets, so it may be of use to take a step back and take a look at what exactly carbohydrates do.  
What do Carbohydrates do?
In short, carbohydrates are what supply your central nervous system (your brain and spinal cord) and muscles with energy for normal function. Some other functions include preventing protein from being used as an energy source, which can be problematic, as the body needs protein to make muscles. In addition, using proteins as an energy source puts extra strain on the kidneys which can lead to the passing of painful byproducts in the urine.
In endurance sports, such as cycling, it has been found that carbohydrates provide about half of your body's total energy needs during intense activity as they can produce more ATP per unit burned than the other macromolecules, allowing your muscles to remain adequately fueled. This allows the body to achieve maximum performance and prolong hitting "the wall" (or bonking). 
What are "fast" carbs?" 
Simple Carbohydrates, sometimes known as "fast burning" carbs, are small molecules (usually simple sugars) that are broken down and absorbed by the body quickly and thus, are the quickest form of energy. They quickly increase the level of blood glucose (blood sugar). Fruits, dairy products, honey, and maple syrup contain large amounts of simple carbohydrates, which provide the sweet taste in most candies and cakes.
What are "slow" carbs? 
Complex carbohydrates, sometimes known as "slow burning" carbs, are composed of long strings of simple carbohydrates. Because of this, complex carbohydrates must be broken down into simple carbohydrates before they can be absorbed. Thus, complex carbohydrates supply the body with energy more slowly than their simple counterparts as they raise blood sugar levels more slowly and to lower levels but for a longer time. Complex carbohydrates include starches and fibers, which occur in wheat products, such as breads and pastas, beans and root vegetables (such as potatoes and sweet potatoes).
Glycemic Index
The Glycemic Index (GI) of a carbohydrate represents how quickly its consumption increases blood sugar levels, with a value of 1 being the slowest and a value of 100 being the quickest, using pure glucose as a reference. For example, a food with a GI of 36 will spike one's blood glucose by 36% of what pure glucose would.  Foods of a glycemic index of 70+ are considered high glycemic food. A table of some common food's GI, as found by a study conducted at Harvard Medical School, can be seen below: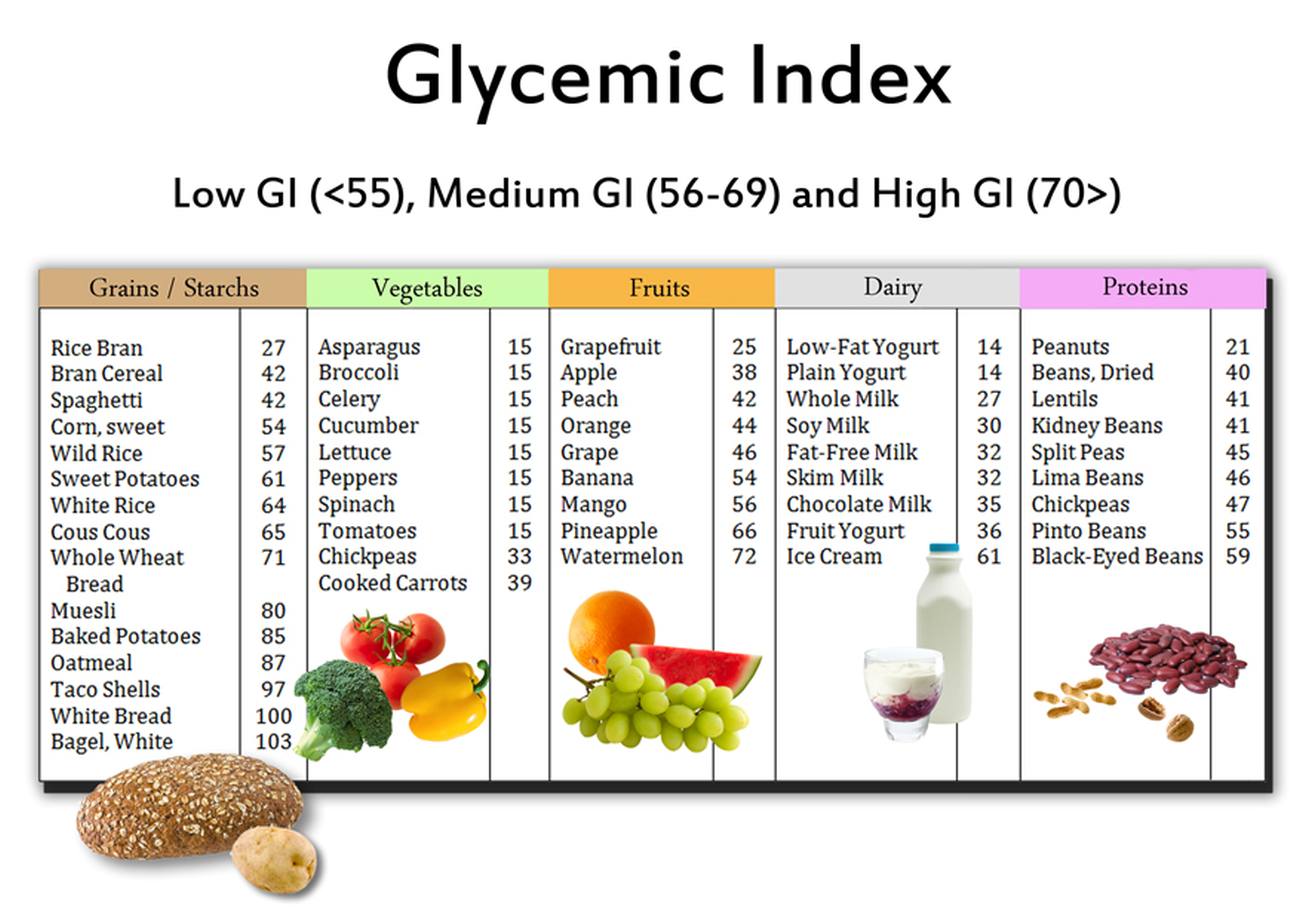 The verdict 
So what's the deal? Should I be eating foods with a low GI or high GI? Both have their benefits:
Low GI foods tend to facilitate weight loss as they are more satiating and provide energy slowly.

foods high up on the GI scale tend to help energy replenishment during exercise, especially during higher intensity activities like running or cycling. 
Personally, when I'm fueling for a long ride that will take many hours, I try to take on my low GI items early on, such as rice cakes or dense granola bars and switch to higher GI items as the fatigue sets in, such as a XACT ENERGY fruit bar or a can of coke. This allows me to take in energy when I am tired and maintain a higher intensity while my glycogen reserves run low.
With all that said, Glycemic index is a helpful tool for both fueling your rides and making healthy lifestyle choices, but it shouldn't be the only thing considered. Quantity and time since your previous meal are factors that should be considered. Proper nutrition and fueling also isn't the same for everyone; while we can rely on the science of nutrition as a rule of thumb, what works for your friend might not work for you. So next time you're packing food for a ride or when you ultimately find yourself struggling at a gas station, don't be afraid to mix things up, and try something new (and full of carbs)!
Nick Kleban is a third year Physiology student at McGill university and a cyclist for the Ride with Rendall elite cycling team.
Sources:
A Balanced Diet For Athletes: Carbs, Fats, Protein. (2015, July 17). Retrieved from https://www.theactivetimes.com/balanced-diet-athletes-carbs-fats-protein
Carbohydrates. (2019, May 22). Retrieved from https://www.hsph.harvard.edu/nutritionsource/carbohydrates/
Editor Posted on 15th January 2019, & Editor. (2020, March 9). Carbohydrates are sugars that come in 2 main forms - simple and complex. This is also referred to as simple sugars and starches. Retrieved from https://www.diabetes.co.uk/nutrition/simple-carbs-vs-complex-carbs.html
Harvard Health Publishing. (n.d.). Choosing good carbs with the glycemic index. Retrieved from https://www.health.harvard.edu/staying-healthy/choosing-good-carbs-with-the-glycemic-index
Harvard Health Publishing. (n.d.). Glycemic index for 60 foods. Retrieved from https://www.health.harvard.edu/diseases-and-conditions/glycemic-index-and-glycemic-load-for-100-foods
Szalay, J. (2017, July 15). What Are Carbohydrates? Retrieved from https://www.livescience.com/51976-carbohydrates.html
Youdim, A., By, Youdim, A., & Last full review/revision Aug 2019| Content last modified Aug 2019. (n.d.). Carbohydrates, Proteins, and Fats - Disorders of Nutrition. Retrieved from https://www.merckmanuals.com/en-ca/home/disorders-of-nutrition/overview-of-nutrition/carbohydrates,-proteins,-and-fats